Death Stranding is an open-world game, with lots of exploration and action, a title considered by many to be the best of the entire generation on PS4. The most remarkable thing is that this title did not leave anyone indifferent. Personally, after playing it for about 90 hours and making 100% of the content with its respective platinum, I can say that the game has seemed like a real pass, in almost all its aspects. Next, I make a brief introduction to the premise and a brief analysis of the title, taking advantage of the fact that we have just around the corner the new version with comments from the director and new content.
Introduction to Death Stranding
In this title we embody Sam Porter Bridges, in charge of carrying supplies and materials between the stations, where humanity is sheltered from the Death Stranding. Suddenly they ask us to help connect all the populated stations of America (united cities of America) to the «chiral network», using a device called Q-pid, which has a series of equations that allows the use of the network and the direct connection with the rest of the locations, as long as they decide to be part of the unification project. To achieve this, in most cases, we must do a series of missions that we will be commissioned directly at that station.
At the beginning of our adventure, through this desolate America, the game can get quite heavy and it may seem to us that everything is meaningless, which with a few hours of play will disappear and each time we will get more hooked on its history. You probably won't really understand anything at all and you base yourself on your own theories, as it happened to me during much of the game, but little by little we will receive key information that gives meaning to this intrinsic story.

Our path will be full of incredible landscapes that affect our gameplay, slippery and narrow areas, rivers, etc. and, of course, weather adversities, which will greatly affect our exploration. All this, along with the weight of our cargo, will make these situations more difficult to overcome.
The load that we decide to carry is a important mechanics in the game, even having to plan very well the route that we are going to follow
We will also have plagued with Stranded entities (EV), which will be our flagship enemies. It is about entities from another world that have been stranded after the Death Stranding, whose objective is to engulf the living. We will use our Odradek, an electronic device that will indicate the direction and proximity of the EVs using the information provided by our BB-28 capsule that contains a prenatal baby, capable of seeing and feeling EVs. These capsules use a prenatal baby for a reason, which I will not explain so as not to include spoilers in the analysis. The chain of missions where we will discover all this is very interesting and we will meet one of the emblematic characters of the title, played by Guillermo del Toro.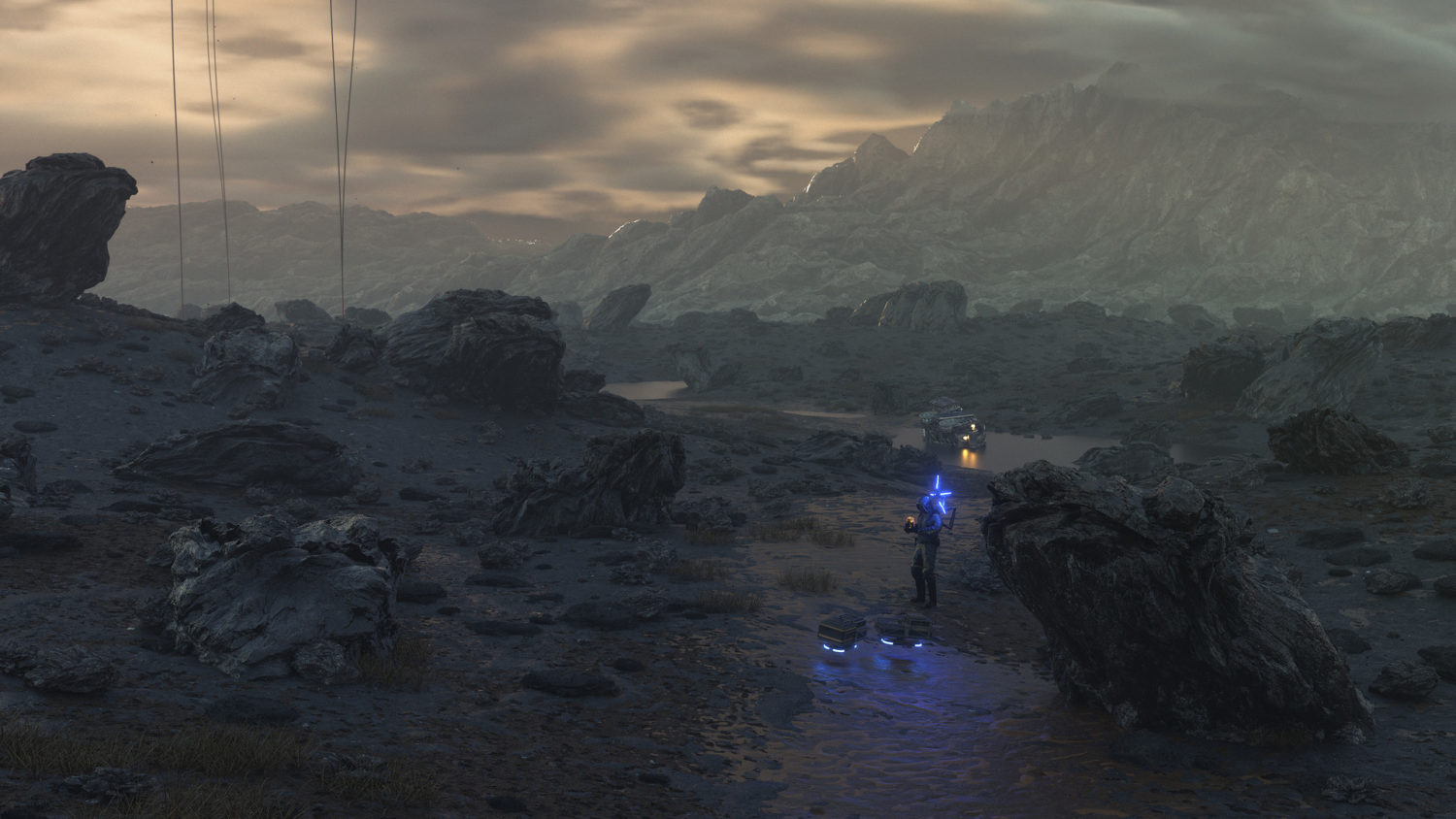 Graphically is a visual spectacle and the soundtrack call Timefall, composed of 8 songs by different artists, leaves no one indifferent.
El gameplay It is quite peculiar and some parts of the game become excessively heavy or boring due to the amount of time you invest in looking for the route, although its worst point is the gunplay, since its combat system with weapons is very basic, without advanced physics. You could say that this look is somewhat arcade.
At the level of history For me it is a resounding 10, since you empathize a lot with the characters and, once the story is finished and you see that finally everything fits, you realize the absolute genius that we have before us. Finally, I must add that secondary content abounds and its parallel stories, in each of the cities and stations, will provide us with a lot of hours and, in general, the stories are very entertaining.
Graphics 8.5/10
Gameplay 7/10
Gunplay 6/10
History 10/10
Setting 9/10
BSO 9/10
Duration 9/10 (between 35/40 hours approx)
Replayability 4/10
Trophy Difficulty 3/10
Fun 7/10
Conclusion and experience own
My conclusion on the title, after having dedicated about 90 hours to get platinum, is that it is a mandatory game, at least to give it a try, one of the greats of the generation. Would you recommend your purchase? Absolutely yes, since, although it has quite weak points, it is a work of art.
My experience with this title was great. In the first hours, I asked myself several times, "What's going on in Hideo's head?" What am I playing? "Have I really invested € 200 in a collector's edition of this with a child in a capsule?" But after a few hours, when I started to get to know Sam and some of the characters, the situation changed completely quickly and I fell in love with this title. That feeling came over me just at the moment when they commissioned you to go from one station to another and they put you on the topic of Low Roar-Don´t be so serious, the same that we heard for the first time in the first 15 minutes of the game, just after knowing some of the details of Sam and the general situation of the world; at that moment a feeling of motivation, sadness and despair invades you that is difficult to explain without tears in your eyes, just at that moment is when dices "This game is ambrosia gamer».
This review has been written by Molina. Visit your Instagram y Twitter to know more.